Recently, Australia Gary Elphick entrepreneur and surfers is using 3D printing technology to create a company called Disrupt Surfboards, using online tools designed specifically for people who love surfing build a unique shape of the surfboard.
"Our mission is to help you create and share your very own personalized surfboard," Elphick said, "tell us about yourself, your skills, we will use 3D modeling software to create a digital model of the surfboard. Just give the design, style, and color you want, the rest of us good. We will only use high-quality, durable environmentally friendly materials. "
It is understood that the customer decided on the design details, Disrupt the company's team will turn it into a 3D model, design a basic pattern again, and then contact the customer to determine whether it is necessary to amend section. Design is finalized, the company will put a surfboard, 3D printing, to conduct quality testing and treatment, and finally sent to the customer.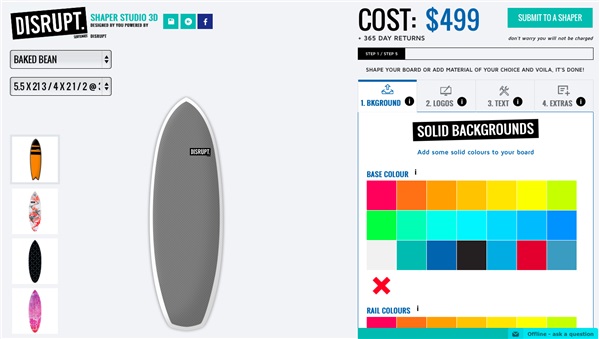 Although the company is located in Australia, but in a recent United States traveling in California, Elphick found his business may be able to use San Francisco's culture and the development of science and technology, because many local technology employees were likes after work or weekend to the beach to surf.
Elphick and friends to discuss this possibility and further create a larger sporting goods custom platform ideas. He also thought about whether or not the company moved to the famous Silicon Valley.
Customized product market is very broad, and can imagine if Elphick d printing technique with local pop culture combines his personalized surfboard will be popular.