3D printing increasingly widely used in the medical field, this is mainly because it can make use of 3D scanning technology to produce high-quality, fully consistent with the structure of the patient's body custom-made medical supplies, such as dentures, bone substitutes, etc. Now, this technology also in the prevention of babies "flat head syndrome" which plays an important role.
"Flat head syndrome" (Flat head syndrome), refers to the baby after the skull or lateral view of the different degree of flattened malformations, brain function and the resulting damage. This condition occurring in infants within the first 3 months of birth, because during this period the baby most of the time will be spent in sleep. As their skulls are very soft and easy to deform under pressure for a long time, and baby bed is flat and lack of scientific considered hardness of design. This will lead to a "flat head syndrome".
A solution is in the baby 14 weeks before the critical period for growth as they are equipped with a suitable helmet. Refer to "proper" Word Smart you must have thought that this is 3D printing specialty! Indeed, in recent days, United States two, Minnesota Twins baby-Lincoln and Nolan got their very own 3D print helmet.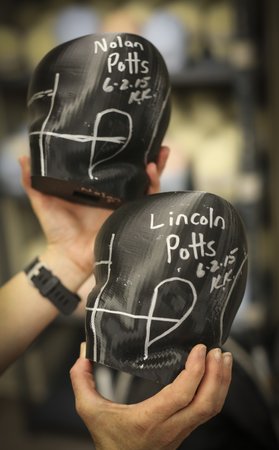 It is understood that the helmet is made by Gillette children's specialty healthcare institutions, they scan the first two baby's head and follow the helmet and intelligence data from 3D models, finally just bought the helmet of 220,000 dollars worth of large Stratasys 3D printer will print out. The whole process took 5 hours, and 3 hours for modeling, 2 hours to print. The twins ' mother was very happy, and wonder at the amazing 3D print.
Exclusive helmet with 3D printing, the baby's parents will not have to worry about "flat head syndrome" influences. Antarctic bears small believes that such medical 3D printing applications will be more and more. But with the development of technology, 3D printers and 3D scanners will inevitably spread, prices will drop a lot. At that time, some not very professional medical applications, such as making simple protective gear, you can easily achieve in my home.